Zasilanie PoE – Power over Ethernet. Tysiące zastosowań, ale często wiele pytań który standard wybrać, jak i gdzie stosować w rozwiązaniach CCTV – tylko konkrety i garść praktycznych informacji.
•••
PoE (Power over Ethernet). Thousand of possibilites but usually many questions which standard is correct, how and where to use in CCTV – only facts and few practical information.
Krótka historia i najbliższa przyszłość
PoE (Power over Ethernet) wprowadzono w roku 2003 przez organizację IEEE (Institute of Electrical and Electronics Engineers – zwaną w skrócie: "Eye-triple-E") jako standard 802.3af (max. 15,4W). Standard ten ewoluował do "mocniejszej" wersji w roku 2009 – 802.3at (30W). Z dobrych informacji, jakie pojawiły się ostatnio to pojawienie się nowego standardu IEEE 802.3bt, którego moc max. będzie wynosiła 100W (aby to jednak osiągnąć należy stosować skrętkę w kategorii minimum 6A).
PoE (Power over Ethernet) was introduced in 2003 by IEEE (Institute of Electrical and Electronics Engineers – called : "Eye-triple-E") as a standard 802.3af (max. 15.4W). This standard evaluated to much powerfull version in 2009 – 802.3at (30W). Based on last good news new standard has became – 802.3bt which can cover max. 100W (but in this case you need to use twisted pair cable minimum cat. 6A).
Tabelka bez zbędnych detali (Chart without many unessesary information):
Moc (Power)
Ilość par zasilających
(# of power pairs)
Dostępność
(Avaiability)
PoE
15W
2
Yes
PoE+
30W
2
Yes
High PoE
60W
4
Yes
PoE++
49W/71W
4
Beginning – early stage of avaialbiliy
Inne standardy "PoE" – Other "PoE" standards
Czy to aby wszystkie standardy z jakimi możemy się spotkać kupując nowe urządzenia? Niestety jak to często bywa – nie. Wielu producentów stosuje własne (dedykowane) zasilacze, napięcia, połączenia, które nie mają odpowiednika w powyższych normach. Nie jestem w stanie wymienić wszystkich producentów, ale tak naprawdę warto zwrócić uwagę za każdym razem podłączając nowe urządzenie do zasilania poprzez skrętkę komputerową czy jest ono zgodne ze standardem PoE czy wymaga dedykowanego zasilacza (np. Ubiquiti – producent głównie systemów radiowych, kamer, switchy – wiele rozwiązań bazuje na 24V zamiast 48V w standardzie PoE – podłączenie klasycznego switcha PoE skutkuje najczęściej spaleniem Ubi urządzenia).
Is there all standards which we can find in stores? Not really unfortuantelly. Many manofacturers make their own (dedicated) power injectors, voltages, connections, which do not have equivalent in above standards. In this short entry I cannot introduce all of them but everytime before you plug device based on twisted pair cable standard check whether this is PoE or it needs dedicated power injector (for instance Ubiquiti – producer of wifi, cameras, switches devices – in some cases based on 24V instead ov 48V in PoE standard – connect directly to the PoE switch can damage Ubi device).
To z czym można się jeszcze zetknąć, ale (na szczęście) staje się już przeżytkiem jest tzw. pasywne PoE – czyli przesyłanie (najczęściej) 12V poprzez skrętkę bezpośrednio do kamery (za pomocą specjalnych przejściówek – zdjęcie). Jakie ograniczenia ma to rozwiązanie? Przede wszystkim niska skalowalność i krótkie odległości (ze względu na niskie napięcie, które wraz z rezystancją kabla redukują max. prąd – w praktyce do 40-50m).
Another technology which is (fortunatelly) going in EoL mode is a passive PoE – sending 12V directly via twisted pair cable based on special reductors (photo). What is the limit of this approach? Low scalability, short distances (low voltage in cooperation with cable resistance makes lower amper amplitude – in practice 40-50m max.).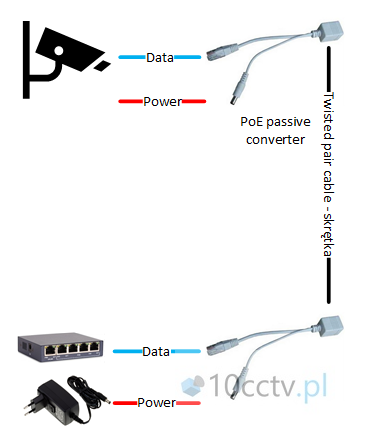 Switche PoE – PoE switches
Ponieważ blog skupia się głównie na kwestiach związanych z rozwiązaniami CCTV będę prezentował rozwiązania, jakie mogą się przydać w tym obszarze.
Because my blog is considering mainly CCTV topics I will mainly focus on solutions which can be useful from this area.
Switche niezarządzalne (unmanaged switches):
proste w instalacji, do prostych instalacji – bez dodatkowych zabiegów konfiguracyjnych
dostępne w wielu wariantach montażowych (desktop, szyna DIN, standard RACK)
niektóre z modeli mają wbudowane porty SFP/SFP+ – możliwość podłączenia wkładek światłowodowych
warto wybierać modele z wbudowanych standardem PoE i PoE+ celem zagwarantowania możliwości zasilania np. kamer PTZ (tutaj zwykłe PoE jest często niewystarczające)
druga rzecz do zapamiętania – rezerwa mocy (W) – każdy producent (powinien) podawać ten parametr celem wyliczenia czy podłączone przez nas urządzenia nie przekroczą max. mocy urządzenia (np. niektóre kamery IP mogą mieć 5W inne 12W, ale nadal jest to standard PoE – jeśli jednak przemnożyć to razy 10 sztuk to mamy odpowiednio: 50W i 120W!)
simple installtion dedicated for simple installation – without huge effort and configuration

many mounting variants (desktop, rail DIN, standard RACK)

some of them had built in SFP/SFP+ ports – it can provide possibility to use fiber gbic interfaces

it's good to select model supported at least two standards: PoE and PoE+ to cover power supply demands e.g. PTZ cameras (typical PoE is not enough in this case)
second thing to remember – power reserve (W) – every vendor (should) provide this parameter so that we can calculate whether it will be enough to cover our needs (some IP cameras can consume 5W, some 12W and it's still PoE standard – but if you multiple this by 10 you have accordingly: 50W and 120W in sum!)
Switche zarządzalne (managed switches):
Urządzenia z tej grupy spełniają wszystkie normy z powyższych punktów oraz dodatkowo:
są droższe, ale dające większe możliwości w przypadku bardziej rozbudowanych projektów (np. stosowanie VLANów)
wymagają więcej niż tylko podstaw wiedzy sieciowej w przypadku, gdy chcemy wykorzystać pełne możliwości (jako domyślne ustawienia najczęściej działają podobnie jak urządzenia niezarządzalne)
można osiągnąć wyższy poziom bezpieczeństwa
All devices from this group cover all above points and additionally:
they are expensive, but can provide much more sophisticated and powerfull features in projects (e.g. VLANs)

it needs more expertise network knowledge to use all range of settings (default settings are similiar to use unmanaged devices)

it can provide much more secure level
Przystępne cenowo i bardzo uniwersalne urządzenia (na podstawie powyższej listy  (wersje industrialowe) – quite cheap and useful devices (based on above description – industrial editions):
https://www.planet.com.tw/en/products/industrial-ethernet
https://www.dahuasecurity.com/products/allProducts/651/508
PoE extenders/repeaters
Jak wiadomo 100m to granica jakiej nie powinniśmy przekraczać łącząc urządzenia za pomocą skrętki komputerowej. Oczywiście wiele osób zaraz to podważy i powie, że używa odcinków np. 120m i wszystko działa bez zarzutu. Nie mam absolutnie powodu, aby się z nimi nie zgodzić jednakże są kwestie, które powodują, że nie jest to standard, który powinniśmy wdrażać w instalacjach CCTV:
wiele zależy od jakości zastosowanego przewodu – stąd kluczowe jest unikanie bardzo tanich kabli. Dlaczego? Proponuje pewien test, jeśli będziecie kiedyś w hurtowni/sklepie komputerowym: weźcie do ręki dwa kartony skrętki dowolnej kategorii 305m: firmowy i najtańszy jaki znajdziecie (jakiegoś dalekowschodniego nieznanego producenta). Czy zauważyliście różnicę? Czy ręką, która trzyma przewód firmowy nie jest już zmęczona, bo karton jest o wiele cięższy niż tzw. noname? I to jest ta różnica: dobre przewody składają się głównie z miedzi (no i oczywiście plastikowego oplotu) która jest zdecydowanie cięższa od kabli które w dużej domieszce zawierają aluminium (tańsze i lżejsze ale utleniające się z czasem). Używanie sprawdzonych przewodów przekłada się na: trwałość, spełnienie standardów certyfikacyjnych, mniejszą ilość problemów (zarówno w trakcie instalacji jak i w okresie gwarancyjnym).
w celu przedłużenia standardowych 100m możemy stosować PoE extendery/repeatery zarówno aktywne (zwykłe switche PoE) jak i pasywne np. https://www2.atte.pl/xPoE-4-11-HS lub https://www.axis.com/pl-pl/products/axis-t8129-poe-extender
część producentów wprowadziło swoje standardy zasilania, co pozwoliło ominąć standaryzację PoE i stosować własne "patenty" – takim rozwiązaniem jest np. ePoE firmy Dahua, które tak naprawdę bardzo lubię, ze względu na duże odległości (do 1km!) i łatwość implementacji, ale z drugiej strony skazujemy się na stosowanie tylko jednego dostawcy sprzętu
warto wspomnieć o leciwych instalacjach koncentrycznych, gdzie rozwiązanie EoC (Ethernet over Coax) a właściwie PoE over Coax umożliwiają przesył danych i zasilania jednym kablem koncentrycznym np. https://us.hikvision.com/en/products/accessories/ethernet-over-coax
As all probably know 100m is a max. value which shouldn't be exceed to connect devices based on twisted pair cable. Of course many people can say that they have even more than 120m and everything works perfectly. I have no reason to disagree but some aspects shows that this is not a standard which we should implement in CCTV installation: