Jak zwykle – doczekaliśmy się ciekawego i sensownego rozporządzenia, ale czy z punktu widzenia systemów wizyjnych jesteśmy na niego gotowi?
Like always – at least we finally got new interesting regulation but the question is: are we ready for this from video surveillance perspective?
RODO jest już z nami ponad pół roku. Co się zmieniło od tego czasu? Było już kilka wyroków, jednakże nadal poziom nieświadomości jest stosunkowo wysoki – szczególnie w obszarze systemów wizyjnych. Rąbka tajemnicy uchyla artykuł z magazynu A&S (4/2018), jednak nadal żyjemy w dość iluzorycznym poczuciu braku jakichkolwiek zmian w tym obszarze. Na szczęście cześć producentów nie zapomniała o tym, że warto iść z prądem oczekiwań i dostarczać niezbędne rozwiązania dlatego, dzisiaj testujemy Kiwi Privacy Protector.
GDPR regulation is already with us around half a year. What's changed until then? There were a few judgments but level of unconcious is still quite high – especially on surveillance systems area. Some details you can find in magazine A&S (4/2018) but still we are leaving in a quite illusory world without any changes on this area. Fortunatelly some producers do not forget about this regulations and had provided solutions from this area – thats why we are testing Kiwi Privacy Protector.
Kontynuując ostatnie testy rozwiązań Kiwi (Parking Space Analyzer – Analiza Miejsc Parkingowych) sprawdzamy jak w praktyce działa system pozwalający na anonimizację postaci/twarzy. Korzystam jak zwykle z testowego komputera klasy i3 pierwszych generacji, 4GB ramu, dysk SSD. Nic nadzwyczajnego, ale to właśnie ma pokazać czy rozwiązanie poradzi sobie z dość trudnym zadaniem maskowania postaci w trybie rzeczywistym.
As a continuation of  my previous Kiwi test (Parking Space Analyzer – Analiza Miejsc Parkingowych) we are checking how in practice anonimisation system works. Like always I use typical PC (i3 processor, 4GB RAM, SSD HDD). Nothing special, but my aim is to check whether this hardware and software can make with this demanding task in live mode.
Tak. Jak widać mogę całkiem swobodnie prezentować to co się dzieje w pokoju dziecięcym bez ujawniania twarzy/postaci osoby z kadru. System działa podobnie jak system parkingowy na dość wysokim poziomie bezbłędnej analizy, jednakże ponownie należy się nastawić na spore wymagania sprzętowe (poszczególne core'y procesora praktycznie cały obciążone prawie na 100%). To co wymagałoby dokładniejszego sprawdzenia to zastosowanie solidnej karty graficznej celem ułatwienia analizy obrazu.
Yes. As you can see I can publicate quite freely what's going on in kids room without any face/body recognise. This system works similar like parking analyser on high level of accuracy but like in previous test it consuming huge resources of CPU (all cores was overloaded on 100% almost all the time). For sure it needs deeper investigation – strong GPU card can help to decrease value of CPU utilization.
Konfiguracja / Configuration
Konfiguracja jest na tyle prosta, że nie będę wchodził w szczegóły. Warto nadmienić, że istnieje możliwość wyboru efektów zamazywania postaci (configuration is very simple but you can find many options to change way of blur people):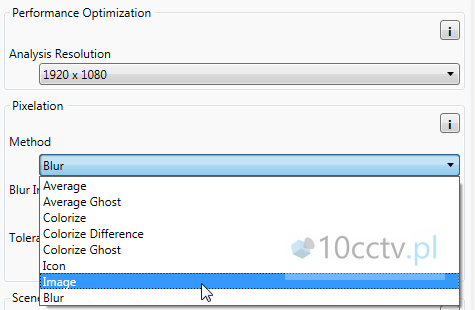 Obciążenie procesora i efekt BLUR w akcji (CPU utilization and BLUR effect in action):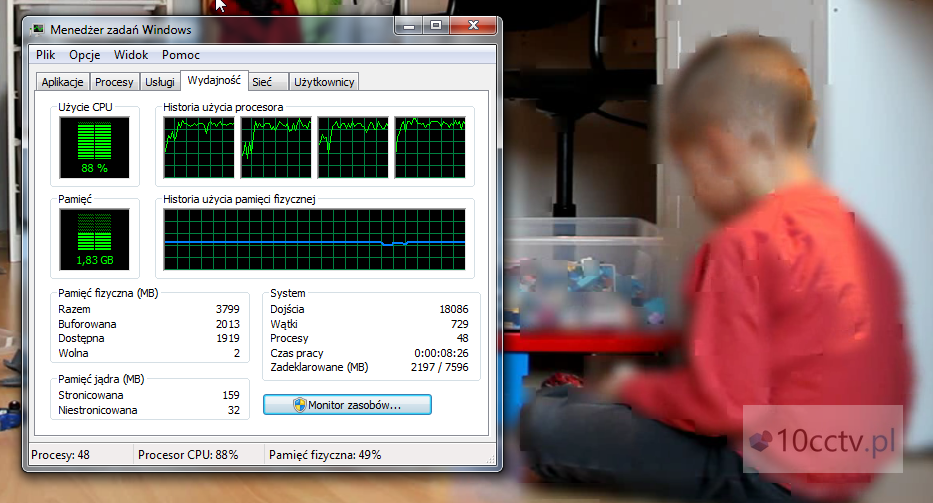 Algorytm / Algorithm
Jak zatem działa algorytmm? Wyszukuje on ruchome obiekty i nakłada na nie maskę. Proste? Niby tak, ale każdy system działa tak jak jego najsłabsze ogniwo. W tym wypadku kluczowe jest rozpoznawanie postaci-obiektów – podczas testów zdarzyło się, że system nie zareagował wystarczająco szybko i postać nie została zamaskowana. W przypadku ciągłości ruchu takie sytuacje raczej się nie zdarzały (tylko pojawienie się obiektu w kadrze generowało powyższą sytuację).
So, how algorithm work? It found object and overlaping mask. Simple? Probably yes, but all systems as strong as its weakest link. In this case the key is object identification. During tests I had some issue when reaction fo Kiwi was slow and there were a moment were person was unmasked. Of course when object was still visible system cover person without any problems (only new objects who was appeared in scene made some troubles).
Inne rozwiązania / Other solutions
Oczywiście nie tylko KiwiSecurity jest dostawcą rozwiązań do anonimizacji. Praktycznie każdy producent ma coś w zanadrzu – zarówno związane z rozwiązaniami programowymi (np. AxxonSoft) jak i sprzętowymi (np. Dahua). To co jednak słychać cały czas w kuluarach to wciąż niepewnie działający algorytm wykrywania twarzy/osób. Tak jak wspomniałem wcześniej – kluczem do prawidłowego maskowania czy to twarzy czy całego ciała jest poprawne jego zidentyfikowanie. Reszta to szczegół. Systemy ewoluują i stają się coraz bardziej przystępne cenowo (dotychczas takie rozwiązania ze względów finansowych miały sens tylko przy ogromnych inwestycjach) co z pewnością znajdzie odzwierciedlenie w kolejnych iteracjach.
Of course – KiwiSecurity is not only one vendor who can provide this solution. In practice most of the producers have something in their portfolio from software (e.g. Axxonsoft) or hardware (e.g. Dahua) perspective. On the other hand in the background there is not so much enthusiasm because of still underdeveloped algorithm of face/body detection. As I mentioned – key to mask face or body is a correct identifiaction. The rest is a peace of cake. The good information is that systems evolve and become more and more affordable (not only for corporate solutions) and be available for regular customers.