Niektórzy klienci potrzebują rozwiązań wizyjnych IP, które można wykorzystać nie tylko stacjonarnie, ale również mobilnie (kontrola w terenie, wizja lokalna, itd.). Na podstawie NASa QNAP wraz z aplikacjami QVR PRO (NVR – Network Video Recorder) i QVPN (SSL VPN) można stworzyć ciekawe rozwiązanie pozwalające na zdalne nagrywanie na naszym rejestratorze (QVR). Co ciekawe, wszystko to odbywa się za pośrednictwem naszej komórki w bezpieczny, szyfrowany i wydajny sposób!
Some clients needs surveillance IP solutions not only as a static installation – there are many situation where mobile IP cameras is the only way to record action (local vision, remote controlling, etc.). Based on NAS QNAP and application QVR PRO (NVR – Network Video Recorder) and QVPN (SSL VPN) it's possible to prepare intresting solution allowing record remote session on our recorder (QVR). What is important everything is based on our mobile phone in safe, encrypted and efficient way!
English version below.
Założenia:
1. System nagrywający
NVR QVR PRO na urządzeniu Qnap (w moim przypadku TS-251A). Tak naprawdę można wykorzystać praktycznie dowolne rozwiązanie (VMS na komputerze, NVR), ale w momencie posiadania urzadzenia Qnap (oczywiście wystarczająco wydajnego) oraz kamer IP nie potrzebujemy dodatkowego rejestratora dedykowanego do kamer. Na start producent udostępnia 8 darmowych kanałów IP – dalsze rozszerzenie wymaga zakupu licencji.
2. Kamera IP stacjonarna
Prawie każda. Dlaczego prawie? Większość kamer "firmowych" znajduje się na domyślnej rozwijanej liście w momencie dodawania nowego sprzętu. Trudność pojawia się w momencie dodawania kamer mało znanych/niszowych producentów. Oczywiście zawsze można posiłkować się strumieniem RTSP, ale: nie zawsze znajdziemy odpowiednią ścieżkę (tutaj przykłady różnych ścieżek RTSP do urządzeń) i nie zawsze działa to wystarczająco stabilnie.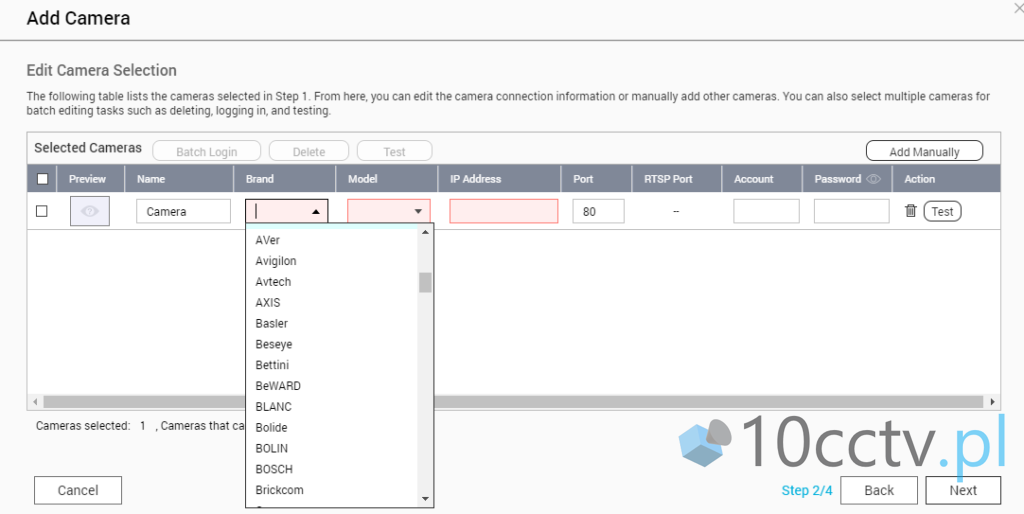 3. "Kamera" mobilna
Technicznie to nie kamera, a telefon komórkowy (w moim przypadku Android). Aplikacja RTSP Camera Server umożliwia uruchomienie strumienia RTSP na podstawie wybranej kamery w naszym telefonie (przednia/tylna). Dodatkowo można ustawić wiele innych parametrów: jakość/liczba klatek/itp.
4. Tunel VPN
Ponieważ "czysta" transmisja RTSP nie jest niestety bezpieczna (dopiero SRTP wprowadza zmiany w tym zakresie, ale o tym kiedy indziej) posiłkujemy się bezpiecznym tunelem VPN. Ostatnie podejście firmy Qnap w postaci oprogramowania QVPN do tego tematu uważam za udane – zarówno pod względem konfiguracji, bezpieczeństwa jak i przede wszystkim wydajności. Dodatkowo posiadając już urzadzenie Qnap nie musimy instalować żadnych specjalnych urządzeń/oprogramowania tylko całość zamknąć w jednym urządzeniu.
To co należy zrobić to skonfigurować tunel VPN QBELT na komórce i zestawić połączenie do swojego Qnap na bazie oprogramowania QVPN. Finalnie całość połączeń wygląda jak poniżej:

Inne warianty i uwagi:
NVR/VMS – większość oprogramowania lub urządzeń jest w stanie przyjąć strumień RTSP – nie musi być to koniecznie QNAP z QVR PRO
Routing statyczny do sieci VPN – ten aspekt może przydać się w momencie korzystania z innych urzadzeń niż QNAP
Ważna jest wydajność zarówno transmisji sieci komórkowej jak i połączenia VPN – LTE to minimum, a proponowany QBELT bez problemu realizował transmisję szyfrowaną do 100Mbit/s i działa po standardowym porcie 443!
Przy transmisji mobilnej pamiętajmy o limitach jakie mamy u operatora – strumień wideo bardzo szybko konsumuje pakiet GB
Oczywiście można również transmitować poprzez Wi-Fi – zyskujemy stabilność, prędkość i brak limitów
Działanie w praktyce:
English version:
Assumptions:
1. Recording system
NVR QVR PRO on Qnap device (model TS-251A in my case). In fact you can use almost any video solution (VMS on PC, NVR appliance) but if Qnap (enough powerfull) is available is much more convenience and easier to start this project. We can use up to 8 cameras for free – more needs better Qnap and addditional licences.
2. Fixed IP camera
Almost every. Why? Most of "well known producers" appears on below list and it's easy to add them based on camera model. The issue is appear when you try add something less popular – without support and manual instruction. Of course it's possible to use RTSP stream but sometimes it's hard to find correct path and sometimes it's not working smothly and reliable (here – examples of various RTSP paths).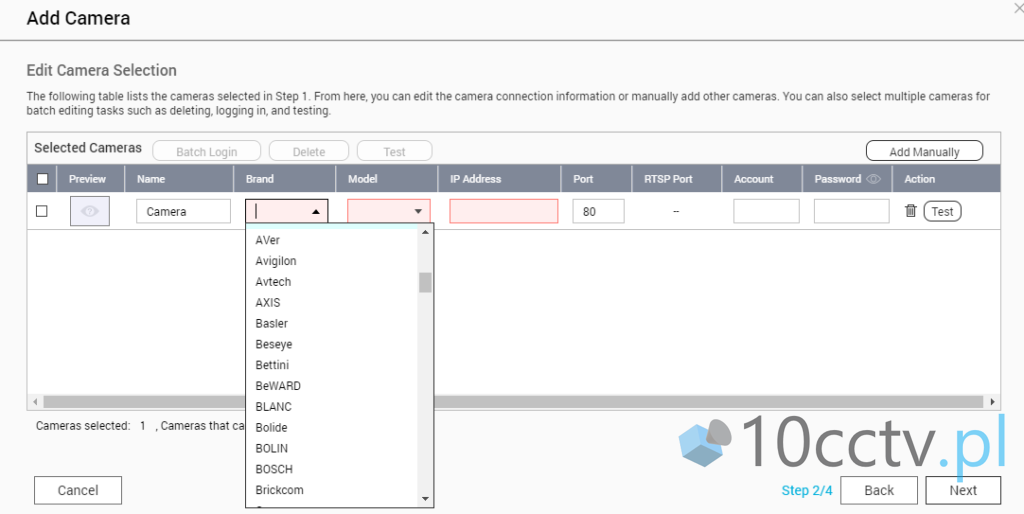 3. Mobile camera
Technically it's not a camera – it's just a mobile phone (Android in my case). Application RTSP Camera Server allow to start RTSP streaming based on internal phone camera (front/back). Additionaly it's possible to change many settings (or leave defaults): quality/number of frames/etc.
4. VPN tunnel
Because "pure" RTSP transmision unfortunatelly is not secure (only SRTP providing some changes on this area but I will back to this story another time) we need to have safe VPN tunnel. Last update of Qnap VPN solution I think it's successful – simple configuration, secure and efficient. Additionaly if you have Qnap everything can be implement on one device!
Steps are very easy: you need to configure VPN QBELT on mobile phone and make connection to Qnap (based on QVPN software). Eventually it should looks like on below draft:

Other variants and remarks:
NVR/VMS – most of software and appliances can accept RTSP stream – my case is only example but solution can be much more sophisticated

Static routing – can be helpful in case of use other than Qnap solution (two way transmission to remote devices)

Transmission efficiency is a key – both: from mobile operator (LTE is must) and VPN connection (QBELT made very stable and transmission – 100Mbit/s and it work on port 443)

Mobile internet limits – some operators still provides some transmit limitation – be aware of it because video can consume your package very quickly!

It's possible to stream via Wi-Fi – we can gain stability, speed and no limits.
In practice: