Kodów kreskowych ciąg dalszy – tym razem na bazie sprzętu Dahua i protokołów sieciowych.
Continuation of barcodes story – this time solution based on Dahua equipment and network protocols.
Po moim ostatnim artykule (#6 – POS – kody kreskowe i CCTV / barcodes and CCTV) otrzymałem prośby o rozwinięcie tematu. Dzięki firmie Inter-Comp.pl udało mi się otrzymać do testów NVR Dahua z serii 5464. Reszta wyposażenia pozostała bez zmian, aczkolwiek zmieniła się koncepcja rozwiązania – urządzenia miały się ze sobą komunikować z wykorzystaniem protokołu TCP – czyli krótko mówiąc: zeskanowane kody miały zostać wysłane do rejestratora poprzez sieć LAN.
After my last article (#6 – POS – kody kreskowe i CCTV / barcodes and CCTV) I received few requests to develop this topic. Thanks to Inter-Comp.pl I received NVR Dahua 5464 series for my tests. Rest of the equipment remained unchanged, althought solution is a little bit different – currently devices needs to communicate between them via TCP protocol – in short: barcodes needs to be send to NVR through LAN.
Rozwiązanie / Solution:
Jak zwykle – jedno z wielu. Wykorzystane elementy:
Dahua NVR 5464
Eltima software – Serial over Ethernet + serwer z portem RS-232
Czytnik kodów RS-232 – Zebra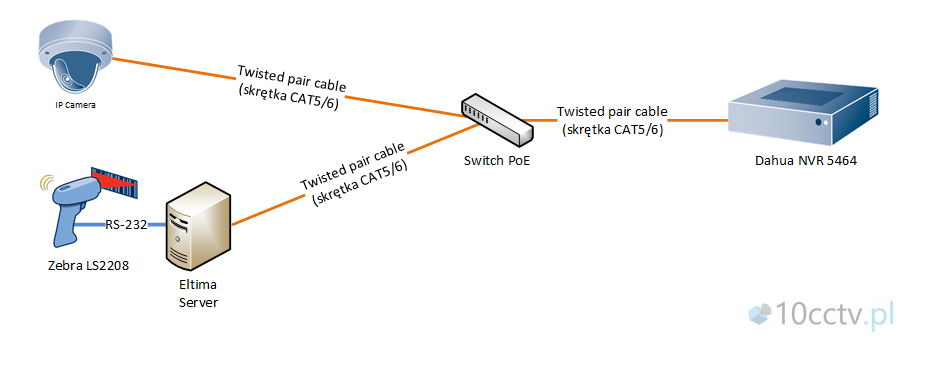 Punktem wyjścia jest zapewnienie możliwości zastosowania większej ilości urządzeń do naczytywania kodów komunikujących się z jednym rejestratorem. W tym rozwiązaniu NVR Dahua obsługuje do 8 kanałów POS, a więc w praktyce można użyć 8 skanerów. Porty RS-232 na serwerze są w pełni konfigurowalne i można zainstalować dowolną ich ilość – oprogramowanie Eltima doskonale sobie z nim radzi.
Main idea was to make this system scalable and possible to plug more than one barcode reader. In this solution NVR Dahua can manage 8 POS channels so it's possible to use 8 barcode scanners in the same time. RS-232 ports are fully managable and it's no issue to install additional serial ports inside the server – Eltima software can very easy manage them.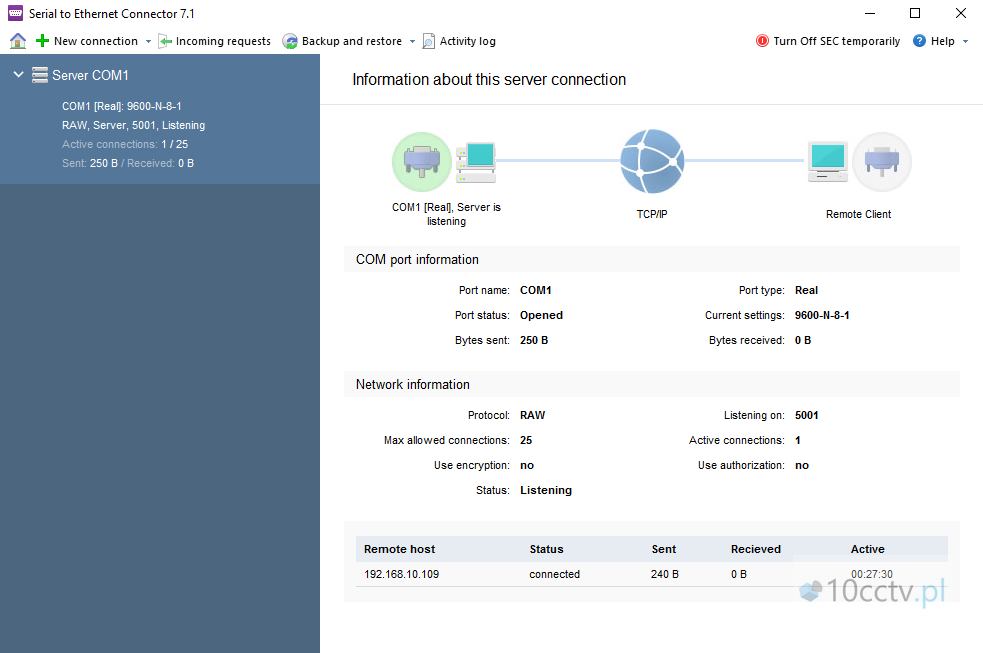 Poniższe wideo prezentuje finalny efekt rozwiązania – zbliżony do tego co prezentowałem we wcześniejszym artykule, jednakże jak widać wszystko działa z wykorzystaniem sieci LAN.
Below video is showing a final effect – quite similar to what I presented in the previous article, however, everything works with the use of network connections.