Obecne czasy wymagają coraz bardziej nieszablonowych rozwiązań. Klienci oczekują wszechstronności, łatwości użytkowania oraz stabilności działania praktycznie w każdym obszarze. Jednym z projektów w którym brałem ostatnio udział dotyczył strumieniowania obrazu z firmowych kamer IP poprzez Skype podczas spotkania on-line. Celem tego rozwiązania było pokazanie produkcji, magazynów oraz całości funkcjonowania firmy oddalonym (potencjalnym) Klientom. Dzięki temu spotkanie można było zorganizować w trakcie kliku dni (wymagany był tylko dostęp do Skype i godzina/dwie na spotkanie), a nie tygodni/miesięcy (zaproszenie osobiste, hotel, szukanie kilku dni na wizytę, itd.).
Nowadays we need more and more sophisticated solutions. Customers demands versatility, easy to use and stable products on every area. One of my last project was related with video streaming from IP cameras through Skype (during on-line meetings). Main aim of this request was to show assembly line (during work time), warehouses and all other intresting areas to potential (remote) Customers during on-line meeting. Because of this meeting could be arranged during the days (Customer needs only Skype access for 1-2 hours) not weeks/months (personal meeting, hotel, matching calendars, etc.)
English version below.
Rozwiązanie które proponuje jest nieskomplikowane i możliwe do uruchomienia mając podstawowy zakres wiedzy IT – te cechy powodują, że można je wdrożyć praktycznie w każdej firmie, która korzysta z wideokonferencji (nie tylko Skype, ale również Webex, Circuit, itp.) i chciałaby prezentować materiał z istniejących/nowych kamer IP.
Co zatem potrzebujemy?
Komputer PC/laptop wraz z oprogramowaniem typu Skype (lub inny komunikator) oraz Manycam (omawiany we wcześniejszym wpisie).
Kamera IP z możliwością strumieniowania RTSP (praktycznie każda "firmowa").
Lista jest bardzo krótka, gdyż rozwiązanie jest proste i zarazem uniwersalne jeśli chodzi o prezentacje różnych treści w trakcie wideokonferencji: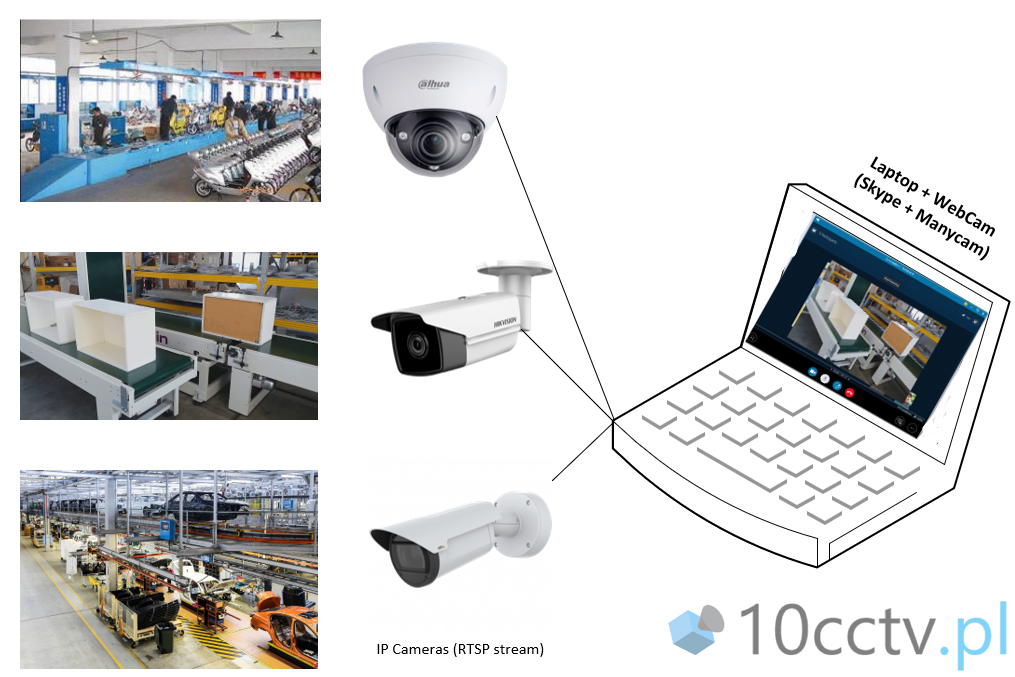 Jak to zrobić?
Na komputerze z którego planujemy być podłączeni do konferencji oraz strumieniować dane z kamer uruchamiamy program Manycam oraz np. Skype.
W programie Manycam dodajemy interesującą nas kamerę (strumienie RTSP są dostępne na stronach producentów – tutaj strumień dla kamery Hikvision):
W programie np. Skype zmieniamy domyślną (najczęściej wbudowaną) kamerę na Manycam Virtual Webcam:
Uruchomienie spotkania online i udostępnienie kamery powoduje pokazywanie treści jakie wyświetlane są w programie Manycam:
Widok z uruchomionej konwersacji Skype:
Poza wyświetlaniem obrazu z kamer możemy:
– prezentować własne filmy/zdjęcia z zasobów komputera/sieci
– wyświetlać obraz z wbudowanej/USB kamery
– udostępniać pulpit, prezentacje, dokumenty
– dodawać napisy, informację, logo firmy, do wyświetlanego materiału
– zmieniać jakość (rozdzielczość), liczbę klatek, itp.
– przechodzić płynnie pomiędzy prezentowanym materiałem (zarówno pomiędzy kamerami jak i wszystkimi innymi prezentowanymi treściami)
Jak to działa w praktyce? (dodałem strumienie RTSP z telefonów komórkowych – sposób opisany tutaj)
English version:
My proposition is quite simple and easy to implement based on even basics of IT knowledge – those features makes this solution possible to provide in almost every company who are using video conference systems (based Skype, Webex, Circuit, etc.) and would like to present additional video stream from IP Cameras (new or existing).
What we need?
PC/Notebook with Skype (or any other communicator) + Manycam (described in my previous article)
Camera IP with RTSP streaming (practically every modern model)
List is very short because (as I mentioned) solution is simple and flexible in terms of presents of diverse materials: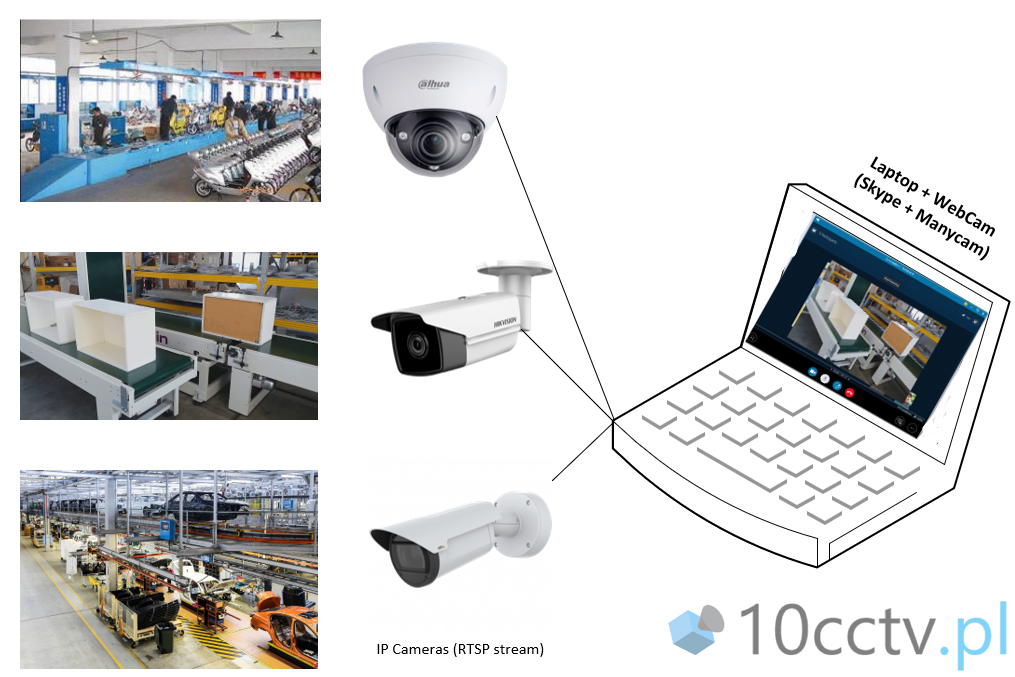 How to do it?
Computer which we would like to use to stream and present material needs to have Manycam software and e.g. Skype.
In Manycam we are adding camera based in below example (any other RTSP streams are available on vendor webpages – here: Hikvision RTSP stream):
In Skype we need to change default camera on Manycam Virtual Webcam:
After start the meeting we can start streaming any source from Manycam software:
View from Skype conversation window:
What additionally we can do:
present photos/films from local archives (HDD, network)

display view from WEB (USB/built-in) camera

share view your desktop, presentations, documents

add subtitles, information, company logo to presented live material

change resolution, number of frames, etc.

pass fluently between presented material (cameras, documents, films and any other contents)
How is it work in practice? (I added RTSP streams from mobile phones – method described here)